The main difference between Counselling and Art Therapy is that general counselling uses a 'top-down approach' by basing therapies on cognitive processing, whereas art therapy uses a 'bottom-up approach' utilising sensorimotor impulse.
Counselling talking therapies like Cognitive Behaviour Therapy (CBT) is where therapists and the client work together to look at  one's behaviours, thoughts, and emotions and how they are processed by our general knowledge, past experiences, beliefs, and expectations. 'Top-down approach' means that we look at the messages that are sent from the brain to the body using cognitive processes. Cognitive therapies are useful for identifying core belief systems, changing our behaviour, improving self-esteem, identifying negative thoughts, and changing them to positive, which lead us to have a more fulfilling and satisfactory life.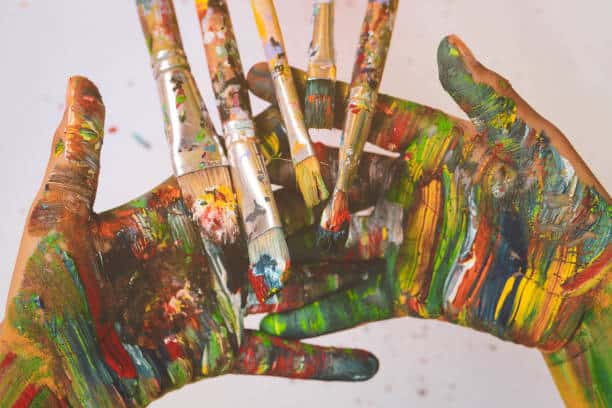 A counsellor is a person trained to help you or someone you know with concerns or problems such as anxiety, depression, grief, or relationship difficulties. They aim to help you resolve your problems in a positive way by helping you to clarify the issues, explore options, develop strategies, and increase self-awareness. At Innate Therapy sessions are generally held one-on-one with you or with your partner or children; group counselling and workshops are also available.
Art Therapy uses the creative process, pieces of art created in therapy, and third-party artwork to help people in treatment develop self-awareness, explore emotions, address unresolved emotional conflicts, improve social skills, and raise self-esteem. Art therapy primarily aims to help individuals experiencing emotional and psychological challenges achieve personal well-being and improved levels of function.
Art therapy provides sensorimotor resources to work on what the body remembers and what the body needs to feel nourished and supported. Many people are governed by expectations of others, rules of society, peer pressure and sometimes lose their sense of self. Sensorimotor messages during the Art Therapy process are sent from the body to the brain using sensorimotor impulses.
An important thing to note is that the goal of treatment is to express one's thoughts and emotions, not produce artistic masterpieces!
As art therapy allows people to express feelings on any subject through creative work rather than with speech, it is believed to be particularly helpful for those who feel out of touch with their emotions or feelings. Individuals experiencing difficulty discussing or remembering painful experiences may also find art therapy especially beneficial.
Arts therapists provide therapeutic interventions using the visual arts, including drawing, painting, sculpture, sand and play for mental health diagnoses, wellbeing, early intervention, and developmental disorders. Arts therapies can help people to resolve conflicts, develop interpersonal skills, manage behaviour, reduce stress, increase self-esteem, and achieve insight
Both forms of therapy help to overcome, depression and anxiety and assist with behavioural changes. However, the art therapy approach assists clients with trauma, attachment issues and developmental issues to process, find a sense of self and create new meanings in their lives.
Both types of therapies are available at Innate Therapies. Contact us on 0414 480 934 or adminteam@innatetherapies.com
Written by Eleanor Gatto and Jacqui Garrigan